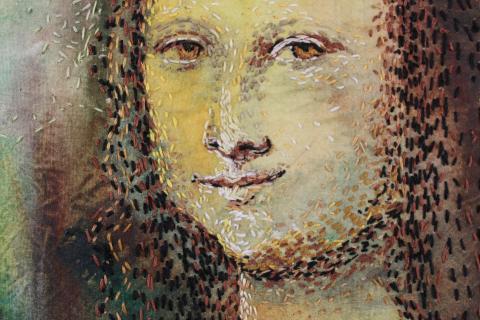 As a member of Art Textiles: Made in Britain I will be exhibiting at The Festival of Quilts 29th July -1st August. I am honoured to be part of this group of ten textile artists and value the opportunity to exhibit with them at venues in the UK and in January 2020 at the Tokyo Quilt Festival.
The theme of this latest exhibition is Found and I have made a large hanging entirely by hand.
'Found in the Attic' 140 x 140 cm
Imagine an abandoned attic full of things, some you would love to find and others you would rather not. This is the starting point for the piece, worked entirely by hand. The hanging is made with fabric remnants hand embroidered and painted with acrylic paints. There are all sorts to be found including a famous painting, a rare antique, a skeleton and creatures dead and alive.
The hanging took me over 12 months to create; working by hand and adapting the design as I went.
'Small Found Things'
A series of minature hand embroideries framed and displayed on a collectors shelf.
'Japanese Screen'
Each member of the group was given a piece of an old kimono brought back from Japan after the quilt show in 2020. We all used the fabric to create a piece for the exhibition.